Today is Day 6 of Pagan Cultures Blog Anniversary.
For today Magaly went with the theme

Crafts
I have to wonder if she meant the craft practiced by Witches or just crafts in general
A craft is a pastime or a
profession
that requires some particular kind of
skilled work
. In a historical sense, particularly as pertinent to the
Middle Ages
and earlier, the term is usually applied to people occupied in small-scale production of
goods
. The traditional terms craftsman and craftswoman are nowadays often replaced by artisan and rarely by craftsperson.
But one could also take today's theme to mean
Witchcraft
I'm going with the first definition today.
I named this piece Witches Brew.
Outside the Garden a Witches Familiar prowls while inside...
A group of Witches gather to share a bit of Witches Brew. Now what's inside those little tea cups is entirely up to you.
I found a list of traditional herbs used in Witchcraft and peppered them throughout the page.
I am also going to link up to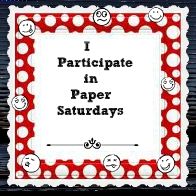 After all I did create this piece using paper even if it was for a different reason. And yes, I know that the subject matter is a bit odd but I just found this linky party, it's new and I want to support it.
I hope you enjoy my interpretation of today's theme and come join in
Manopopje's...Art
Party