Today is Day 13, the final day, of
Pagan Culture's
Witches in Fiction 4th Blog Anniversary celebration. I am sad that it is ending, I've learned a lot and read some very wonderful posts. I'd like to thank everyone that has left me comments over the last 2 weeks, they have made me feel like my posts, although much different from others, were still appreciated.
Magaly is ending her hop with the theme
Photography
Humm...Witches in Photography, I'm sure there are tons out there but I just don't have any. However I do have a fabulous family photo with a wonderful story.
This is an image of some of my Great Great Great...Grandmothers. My own Grandmother told me the story of this photo a few years ago and I have fell in love with the story and the history automatically. Apparently, back when this photo was taken, it was considered "making it" if you owned a black silk dress, could get dressed up and have your photo taken. Well, that is what these women did and when the photo was developed someone said they looked like "Three Black Crows".
This photograph has inspired and been used in a lot of my artwork. But this one, that I did for a Journal entry, is my favorite.
Look closely, the faces have changed. Can't see it? Well luckily I have some close ups, see bellow.
Now they are my Great Grandmother's.
Now they're not!
I don't know why I associate crows with witchcraft, but I do. Off my rocker probably, but I guess if an evil witch was to transform into anything I imagine it would be a crow.
I hope you enjoy my interpretation of the theme. It has been a fun hop, can't wait to see what Magaly has planned for next year!
I am also sharing this with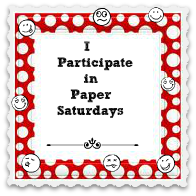 Come join...next week I hope to get to play with her adorable little paper doll!