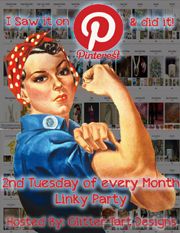 Hey all
Welcome to the April
I Saw it on Pinterest & Did It
If you didn't get a chance to see all her wonderful touches stop by now.
Now onto April
Feeding children can be tricky, especially when you live in my house because we are borderline Paleo (what do I mean by borderline - we try very hard but every now and then cheese and bread are just a must LOL)
Chicken Parmesan
I saw this on Pinterest and decided to give it a try.
Again I apologize for the horrible image, I took it with my phone and I obviously lack talent in food photography.
It was out of this world good! And both girls ate it, along with the Spaghetti Squash I served in place of the traditional spaghetti pasta. I actually think the Spaghetti Squash was better than pasta because it is slightly sweet and cut the acidity of the Chicken Parmesan wonderfully.
So, what have you been up to? Please link up any and all things, art, food, home improvements, etc. that you saw on pinterest and tried. And remember you don't have to have been successful.
This linky party is open until May 7th.