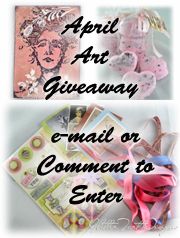 This month I've decided to look a bit forward with my giveaway. I'm looking ahead to May 12th, Mother's day. I've pulled out some art, art goodies and a fabulous gift that you could win and give to your mother or make something for her with it.
So without further ado...April's Giveaway
Giveaway #1
Edwardian Elegance ATC
Giveaway #2
A mini kit to make your own mothers day items.
Ribbons, Images, stickers flowers and various treasures
Giveaway #3
Heart shaped Rose Scented Bath Bombs with real rose petals.
For you to enjoy or a great gift for your mother.
Please leave a comment or e-mail me to earn a chance to win. If you place my button on your blog and let me know I'll enter you twice. Thanks so much for your support and good luck to all.