Paris. 1878. Following their father's sudden death, the van Goethem sisters find their lives upended. Without his wages, and with the small amount their laundress mother earns disappearing into the absinthe bottle, eviction from their lodgings seems imminent. With few options for work, Marie is dispatched to the Paris Opéra, where for a scant seventy francs a month, she will be trained to enter the famous ballet. Her older sister, Antoinette, finds work—and the love of a dangerous
young man—as an extra in a stage adaptation of Émile Zola's naturalist masterpiece L'Assommoir.

Marie throws herself into dance and is soon modelling in the studio of Edgar Degas, where her
image will forever be immortalized as Little Dancer
Aged Fourteen. Antoinette, meanwhile, descends
lower and lower in society, and must make the choice between a life of honest labor and the more profitable avenues open to a young woman of the Parisian demimonde—that is, unless her love affair derails her completely.

Set at a moment of profound artistic, cultural,
and societal change, The Painted Girls is a tale of two remarkable sisters rendered uniquely vulnerable to the darker impulses of "civilized society."
Buchanan opens her novel with a quote from Le Figaro, 1880 "-No social being is less protected than the young Parisian girl-by laws, regulations, and social customs."

Sounds like a great start, doesn't it!

I was so excited to read this book, I fell in love with the cover and the book jacket summary sounded exciting, but they are marketing trickery.
Little Dancer aged Fourteen
The novel is written in first person multiple point of view. One story told by Antoinette and the other Marie Van Goethem. But the writing isn't strong enough to carry off two different persona's, if the two girls stories hadn't been so different it would have been difficult to tell which sister was telling her tale.
In the end I wanted Marie's story to have been written by
Susan Vreeland
who wrote
Clara and Mr. Tiffany
, one of my all time favorite reads. Buchanan and the book jacket write up lead me to believe there would be more interaction with Degas, and I wanted that, in fact there is very little. I believe Susan Vreeland would have made this aspect stronger while maintaining the integrity of Marie's story.
As for Antoinette I wanted her story to have been written by
Emma Donoghue
, she wrote
Slammerkin
, a gritty telling of a girl turned prostitute due to her love of clothing in the 1700's. I believe that Donoghue would have pulled off Antoinette's decent into the gutter in a stronger manner.
Rue de Douai, Paris
About 200 pages into the novel I wanted a better picture of how Marie viewed Lefebvre, her abonnes (a wealthy man who take ballerinas under their wing and pay, give gifts to and well you fill in the rest). Buchanan doesn't even give a good physical description of him, how old is he, way too old or middle aged? (You find out much later) But since this portion of the story is told by Marie I expected to know how she felt about this man who was having such an impact on her life.
Antoinette was/is a character that I just don't understand and I chalk that up to an inability to empathise with her character. Buchanan focuses so much on the characters flaws that you end up not liking anyone or really understanding their actions.
Toward the end of the novel things get really unbelievable. Antoinette has a complete reformation. Up until now she has been a constant lier, even before her fall from grace, and fell so easily into Emiles hands.
The final section of the novel is dated 1895 and to me was more of an Epilogue and should have been presented that way.
New Caledonia, Paris
Normally I don't read the Author's notes but I was so disappointed with this book that I wondered what Buchanan had been thinking. She talks about the below BBC Documentary influenced her writing. I found the documentary much more interesting than the book and it took up a lot less time of my life.

After reading the Author's note I wished there had been a Prologue. Many of the things mentioned in the Author's note were not strong enough in her writing. I am intrigued more by the author's note - Degas and the
criminal mans anthropology
connection-and possibly might have enjoyed the book more with this information being presented earlier.
Overall I was let down and feel that the title had a lot to do with that. This book was not about Degas or the girls that posed for him. It was about two sisters and how much their lives sucked.
I give it 2 cupcakes.
I am linking up with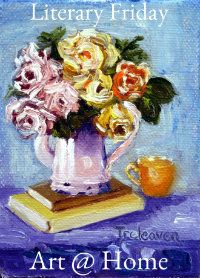 come join us!