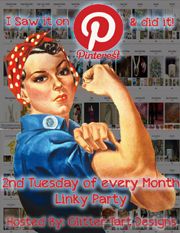 Hey all and welcome to the first I Saw it on Pinterest and Did it Linky Parties.
So here is how it works,
Post an image of what you saw on Pinterest with appropriate credits.
I saw this on Pinterest
At Home with Kim Vallee
New Uses for old Things
clicking on the above picture will take you to my Pinterest Board, where you can go directly to At Hoe With Kim Vallee's website or peruse more of my boards.
Now share your remake.
And Made This
We all have it, you know that pile of papers on the kitchen counter, or the table right inside the front door. Well, when I saw the New uses for Old Things post on Pinterest I thought it could be a remedy for all that stuff.
And so far it has been! Sunglasses no longer get lost in piles of paper or get grease spots on them from sitting on the kitchen counter. I always know where my most recent coupons are, not that I ever remember to take them...but hey one step at a time.
My little girls latest creations no longer get smashed and tossed but displayed proudly.
And all those very important papers that pile up now have a perfect spot.
I slipped a thin peace of wood between the shutter and the wall and tacked it in place so the mail doesn't fall out.
Best of all, check out my counter! Yep that used to be the home of all those papers and sunglasses and artwork. Now I can use it for food!
Now it's your turn. Don't have a post no worries, this party is open for three weeks! Please be kind, when you link up visit other links and comment. Comments make the blogging world smile.