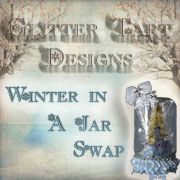 It's that time swappers, time to link up and share your wonderful creations.
I am really looking forward to seeing all of your wonderful creations. You are a great group of swappers and artists and I feel honored that you took part in my swap.
Be on the lookout for a possible Spring in a Jar Swap!
This linky party is only for those individuals that took part in the Winter in a Jar Swap.