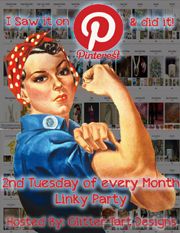 Hey all, and welcome to the 2nd I Saw it on Pinterest & Did it.
Last month there were some great entries!
Miss Kopy Kat shared her Book Page Wreath
If you didn't get a chance to see it before go now, she has a wonderful tutorial and I think her Book Page Wreath is the best done ever.
Onto March
When I was sick I found myself spending lots of time on Pinterest, and amazingly even though I was dizzy and nauseous I thought these sounded out of this world. So the second I felt better I made them.
Brie and Apple Crescent Rolls by Dancing Branflakes
I apologize for the horrible pictures I took them with my phone while I was still a bit under the weather.
First off, if you know anything about me you know I changed the recipe. I decided to use Gorgonzola instead of Bree, because of it's stronger flavor and I could only find chopped Pecans so that is what I used.
My finished products.
Now the evaluation.
These DO NOT work, the way I did them or the way that Dancing Branflakes did.
They tasted scrumptious but as soon as you bite into them the entire apple comes out.
My suggestions, and what I will be trying when I make them again are the following changes.
Apple: Green, peeled and chopped into bite sized pieces
Cheese: Your choice but I am sticking with strong flavored cheeses
Nuts: Your choice, but make sure they are bite sized
Breading: Phillo Dough, the crescent rolls masked the flavor of everything inside.
So what have you been up to?
Please link up, the link will be open until April 2nd.
Can't wait to see what everyone has been doing.