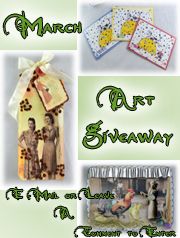 March, in like a Lion and out Like a Lamb...well it's snowing here so I guess the saying is true to far.
But there are lots of other things March reminds me of. Easter, births (now is the time for cows to be having their calves) and large meals with family. I tried to touch on each of those with this months giveaways.
Giveaway #1
A set of 6 cards with a Nursery Rhyme theme
Giveaway #2
Retro tag
Giveaway #3
Easter in Kansas ATC
As always please leave a comment or e-mail me to earn a chance to win. If you place my button on your blog and let me know I'll enter you twice. Thanks so much for your support and good luck to all.