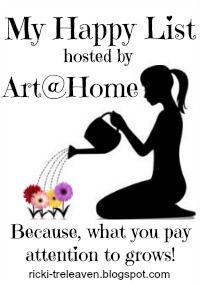 I tend to have a hard time seeing the good that is right in front of me some days. I've watched Art@Home "My Happy List" link party for some time and been overwhelmed believing I didn't have that many things to be happy about.
Well today is the day that I force myself to see the positive.
1. I'm taking this one right from Ricki,
I want to see The Host and know that Mr. Glitter Tart will go with me if I ask so I don't have to see it by myself.
2. Outstanding swappers
Recently I've been disappointed by the quality of swaps I've received that was until I received this additional journal (not a required item) in a swap. Kim reminded me why I swap, because there are those swappers out there that do create marvelous pieces and share them.
3. My Family, but most recently, My Mother
who I didnt' realize how much I was leaning on until recently. She has always been there for me but it took me 35ish years to really see and feel it.
So there ya go, my first ever happy list. It felt good to make it and now I can think of a ton of other things I am happy for.
So come join Ricki and the rest of the gang and lets focus on the good.