Summary:
Set amid the perils of illegal border crossings, The Iguana Tree is the suspenseful saga of Lilia and Hector, who separately make their way from Mexico into the United States, seeking work in the Carolinas and a home for their infant daughter. This harrowing novel meticulously examines the obstacles each faces in pursuing a new life: manipulation, rape, and murder in the perilous commerce of border crossings; betrayal by family and friends; exploitation by corrupt officials and rapacious landowners on the U.S. side; and, finally, the inexorable workings of the U.S. justice system. Hector and Lilia meet Americans willing to help them with legal assistance and offers of responsible employment, but their illegal entry seems certain to prove their undoing. The consequences of their decisions are devastating. In the end, The Iguana Tree is a universal story of loss, grief, and human dignity.
Review:
The Iguana Tree is Michel Stone's debut novel, it was the January read for my Library book club and we got to Skype with Michel.
I feel the need to start off by saying that ones political views, regardless of what they are, are going to have an effect on you when reading this book. Even though that was not Michel's goal. So if you do have very strong views on the issue of Illegal Immigration, you might want to skip this one.
The book starts off in Oaxaco City, Puerto Angel Mexico, with Lilia (Hector's wife) seeming to have a fine life. Roof over her head, friends, family and a lovely child. So why did Hector leave for America? This bothered me the entire book, there seemed to be no reason. I asked Michel why she left this detail out and her answer was that her editor believed everyone would know about the squalor that the family lived in, how little they got paid. Michel did mention that they made very little money but otherwise she painted a lovely picture of Lilia and Hector's home.
From: Toques on Moto Blog

To me the book was about longing for more verses being content with what one has. A basic human drive. Michel said that the message she was trying to get across was that Bad thins happen to good people and you just have to pick up and move on.
Hector's crossing is successful and he makes a friend on the way. They end up in South Carolina on Edisto Island. I have a lot of family in that area and it is gorgeous there. He gets a good job and is saving up to bring his family to him. But it wouldn't be a book about good and evil if things went as expected.
The book quickly descends into a very dark novel. Bad things happen to all the characters, some of the characters reactions seem out of character. One of the book club participants asked Michel about how much of the
Machismo
was intended and Michel said it was the very definition of Hector's character. Well, I am not an uneducated person but to me Hector's character was the one that never seemed to work, so a bit more explanation would have been nice.
I liked the title of the book and quickly caught onto the meaning. "Lilia did not want to leave her spot under the tree. Emanuel did not hold her there as much as the memories of a carefree life, of a long forgotten weightlessness and belief that all would always be right and under control." (pg 16-17). When Lilia ends up in bad situations she talks in her mind to the Iguana that had been in the tree outside her home.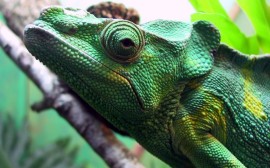 Iguana Papel de Parede

Overall I did not enjoy this book, the characters seemed poorly written, there seemed to be no reason for Hector leaving his family and home and really bad things happened. I admit that after chatting with the author I do have a better appreciation for the book but most readers won't have that opportunity so I will have to stick with my original assessment.
Michel is currently working on her 2nd novel, which is not a sequel (The Iguana Tree needs a sequel, it ended on a horribly sad note). It too will be set in South Carolina but will be more of a "finding one's way through the cultural differences of the people living in South Carolina."
I am linking up to Art @ Home's: Literary Friday