Synopsis:
A mysterious island. An abandoned orphanage. And a strange collection of very curious photographs. It all waits to be discovered in Miss Peregrine's Home for Peculiar Children, an unforgettable novel that mixes fiction and photography in a thrilling reading experience. As our story opens, a horrific family tragedy sets sixteen-year-old Jacob journeying to a remote island off the coast of Wales, where he discovers the crumbling ruins of Miss Peregrine's Home for Peculiar Children. As Jacob explores its abandoned bedrooms and hallways, it becomes clear that the children who once lived here—one of whom was his own grandfather—were more than just peculiar. They may have been dangerous. They may have been quarantined on a desolate island for good reason. And somehow—impossible though it seems—they may still be alive.
Review:
My little sister introduced me to this book and we read it together. Since I frequently find myself creating with Cabinet Cards and while working with them creating stories this book really intrigued me. When I got my copy I thought the images were wonderful and I couldn't wait to dive into the story.
The book starts out in Florida in today's time with the horrific murder of Jacob's grandfather who has told Jacob stories about Miss Peregrine's School and his friends there. It is a good start, intriguing, you want to find out what happened to Jacob's Grandfather.
Somehow Jacob and his therapist talk Jacob's parents into letting him go in search of Miss Peregrine's school. Jacob is convinced it exists along with a scary monster. So for the summer Jacob and his father head over to England to a remote island. Sounds exactly like something a worried father would do doesn't it??? Yea, that's what I thought also.
When Jacob manages to escape his father's not so watchful eye (I am getting very tired of parents who don't watch after there kids in order to move a story along) Jacob finds the old school in ruins.
From this point on in the story everything is a bit magical. Riggs creates a world with creatures, such as, Wights, hollows, Ymbryne and you meet the children. Discovering this magical place and the evil that is after it all seems to come together in a very unhinged manner. With about 100 pages left in the book I still couldn't find a defined goal. It's an easy read and the pictures are fun but I needed more story, more direction. I ended up not liking the book at all and deciding that Riggs put to much emphasis on making the images he selected work instead of making the story work.

When I finished reading I sat there and said "he didn't tie up half the loose ends!" Little did I know then that there is a sequel planned. Well, won't be reading it. However I will probably go and flip through it at the library to see the pictures Riggs used. The author does have an eye for some really fun pictures. As of right now there is no title or release date for the sequel. But movie rights have been purchased for both (gotta love that ha!). The official press release can be found
HERE.
This video that Riggs put together is actually more pleasant to watch than it was to read the book. Very interesting to see what the author had in his head while he wrote and he is quite well spoken. I also love old abandoned buildings and finding little treasures. And this video is all about that. However a lot of it is staged, but staged well.
Ransom Riggs has a You Tube channel and many of the video's are interesting.
Speaking of Creepy, Crusty and Crumbly. One of my favorite boards I have created on Pinterests is all about abandoned buildings and forgotten items.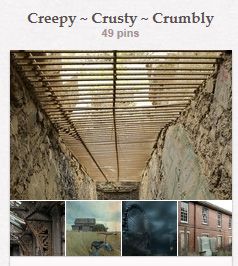 I am linking up to