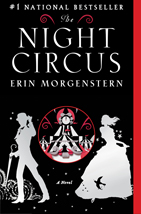 The circus arrives without warning. No announcements precede it. It is simply there, when yesterday it was not. Within the black-and-white striped canvas tents is an utterly unique experience full of breathtaking amazements. It is called Le Cirque des Rêves, and it is only open at night.

But behind the scenes, a fierce competition is underway—a duel between two young magicians, Celia and Marco, who have been trained since childhood expressly for this purpose by their mercurial instructors. Unbeknownst to them, this is a game in which only one can be left standing, and the circus is but the stage for a remarkable battle of imagination and will. Despite themselves, however, Celia and Marco tumble headfirst into love—a deep, magical love that makes the lights flicker and the room grow warm whenever they so much as brush hands.

True love or not, the game must play out, and the fates of everyone involved, from the cast of extraordinary circus per­formers to the patrons, hang in the balance, suspended as precariously as the daring acrobats overhead.

Please enjoy Erin Morgenstern's Play list while reading my review.
Review:
The Nigh Circus opens with a segment called "Anticipation" where the reader is addressed directly. Talking to the reader about the Circus. It has gorgeous descriptions that some might find long winded but I was able to immerse myself in and fall in love with the setting. I frequently enjoy books that start off by engaging the reader in this way. However I don't like much of it, and Erin is wonderful at stopping just when she needs to and occasionally picking up this point of view throughout the novel.
Erin breaks the book up into a number of parts, the first part is called "Primordium" which is a perfect name. All of the characters are introduced here and the Circus idea is formulated.
NOUN
1.
early tissue growth:
a tissue or organ in the earliest stage of embryonic development, found when the dividing cells in the fertilized ovum first differentiate
There are two other story lines besides the one that directly involves the reader, one about a game being played by Celia Bowen and Marco and the other about a young boy, Bailey who is enamored with the circus. I got a bit tired of waiting for these two story lines to merge but Erin makes up for that a bit in the lovely descriptions and they enhanced mystery element she has going on with the game and romance between Celia and Marco.
There is quite a bit of time and place jumping between chapters that threw me off a bit at first because the timeline is so tight, 1873-1897 and it doesn't jump linearly. However once I grasped all the characters this got better.
Image from Pinterest
Illumination starts off with the opening night of Le Cirques des Reves which is rich with description of this fantasy Circus and all it's wonderful sights you feel like you are right there.
One of my favorite quotes in the book comes from this section. Pg 177
"The finest of Pleasures are always the unexpected ones."
To me this is true about life and this book.
The author gives the impression that those people that work on the circus have stopped aging. I thought they may have become immortal but then one of the characters dies, however this is a fishy death since she was spying on another character. Later the author clears this up but a
t this point in the novel I couldn't decide if the book was slow or if there were just so many mysteries not getting solved and new ones being introduced that it felt unfocused.
Dreams and Fasinations
Soul Cookie
By this point I have decided that the book i mostly descriptions and I have settled into being okay with that since they are rich and well written and so different for what one normally reads about Circus life.
I am also having a hard time with the romance between Marco and Celia the only way they know each other is through the game and yet Marco says he loves her. Can one love someone just based on actions?
In this section Bailey's character becomes more important and I make a name association. Bailey as in Ringling Brothers, Barnum and Bailey Circus. So of course I went off and looked up all the information on the circus and learned quite a bit.
Saltar in Banco
Lacy Barry
Part 4: Incendiary
And like with most incendiary devices this is the section that everything hits the fan. It is also from this point on that you can't put the book down. However I must admit I was a little let down by the "big event" but it does fit the storyline.
In the end many of the mysteries are wrapped up, some that aren't as important are left for the reader to ponder as is the ultimate fate of the Circus (but I think Erin wanted the reader to make the Bailey connection).
I enjoyed this book, the beauty of her writing, the way everything is so mysterious. However I can see how many readers would not enjoy it so overall I have to say if you can read a slow book filled with many lengthy descriptions, a lot of mystery that doesn't seem to ever get solved and an original story then this is a book you should try.
Now, why did I read this? Well, it's obvious how much I love blog hop and linky parties and I found Moon light Under the Big Top which was inspired by this book. The hop only requires that you do something circus themed but of course since i am a reader I read the book.
So even if you haven't read the book please come check out all the wonderful art that will be on display next Thursday, September 29th.

My piece is almost done and heavily influenced by the gorgeous descriptions in the book.

Thanks for taking the time to read this rather lengthy review I hope you enjoyed it.