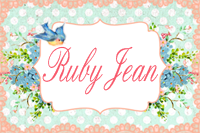 And today I received my fabulous goodies and oh my are they even better than I could have imagined.
The prize was $50 worth or whatever my heart desired, well alas my heart desired everything but I controlled myself and only went slightly over the winnings. Now I wish I had gotten more
I selected this fabulous old very rustic (which to me adds character) grain bucket and a wonderful holiday pillow.
I don't know what I'm going to put in the grain bucket yet, any suggestions would be much appreciated, but dosnt' it look lovely on the hearth (FYI I hate my fireplace, one of these days it is going to get a major overhaul).
And here is the gorgeous pillow (so wish I had ordered more of these!).
Thank you so much Ruby Jean for hosting such a fabulous giveaway and Katie Rose Cottage for making such wonderful things! Today was better than Christmas!