This is the second coaster I created for Alpha Stamps with the theme Birds in Hats. I am constantly drawn to steampunk but never seem to be able to nail it.
I think overall everything needed to be bigger and then it would have looked better. Wax is holding down all the clock parts along the edge of the coaster. And I used a number of watch parts on his hat.
I was also kinda going for a Tin Man heart thing but in this case a heart that needed a sprocket to work. Yes, that is a red heart inside the gold bird.
I twisted a bunch of wires together to make a connection between the compass parts and the clock parts on the bottom.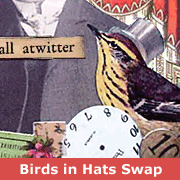 There is still time to sign up for the Birds in Hats Swap, sign ups end this Sunday June 24th. I would love to see you join us.
I still have not heard from the winner of the kit I created for the Meet The Alpha Stamps Design Team Blog Hop
my winner
who said... What great fun! Lovely work
Please see the original
announcement post
for instructions on contacting me. If I haven't heard from you by tomorrow morning I will be drawing for a new winner.