A while ago Alpha Stamps held a blog hop and the design team shared some of our work. Well I didn't share it all so here are some more pictures of my "Kill two Birds with one Stone" piece.
As I mentioned in the blog hop I like to tell stories with my artwork. This one I came up with after seeing the phrase "Kill to birds with one Stone" on the
Bird Words Collage Sheet
created by
Teri Calia
So I found two lovely birds topped their heads with a hat similar to the one I've always seen depicted on Marie Antoinette in her final moments (from collage sheet
Just Hats
) tossed a Guillotine and a couple of stones in there and voila I've killed two birds with one stone.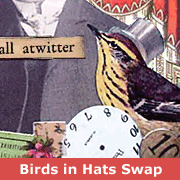 There is still time to sign up for the Birds in Hats Swap, sign ups end this Sunday June 24th. I would love to see you join us.