It begins with a call in the middle of snowy February evening. Lying in her bed, young Sylvie Mason overhears her parents on the phone across the hall. This is not the first late-night call they have received, since her mother and father have an uncommon occupation, helping "haunted souls" find peace. And yet, something in Sylvie senses that this call is different than the rest, especially when they are lured to the old church on the outskirts of town. Once there, her parents disappear, one after the other, behind the church's red door, leaving Sylvie alone in the car. Not long after, she drifts off to sleep only to wake to the sound of gunfire.

Nearly a year later, we meet Sylvie again struggling with the loss of her parents, and living in the care of her older sister, who may be to blame for what happened the previous winter.

As the story moves back and forth in time, through the years leading up to the crime and the months following, the ever inquisitive and tender-hearted Sylvie pursues the mystery, moving closer to the knowledge of what occurred that night, as she comes to terms with her family's past and uncovers secrets that have haunted them for years.
I can't quite put my finger on this book. It could be classified as a mystery, Gothic thriller or general fiction. The fact that this book could be classified in so many genres might have something to do with why I don't really know how I feel about the book. There are just too many different things going on and I don't think any thread was particularly well developed.
The story is told through the eyes of a sixteen year old girl, Silvie. There are two storylines, the present day and everything leading up to her parents murder. She has a strong voice but I don't feel like she grew in any way. That may have to do with all the jumping back and forth in time.
I had the opportunity to chat with the author and learned that the book is loosely based on the
Warren's
. I knew nothing about this couple so it was fun to learn something new. The Warren's are the family that the movie The Conjuring was based on.
My need to find out who murdered Silvie's parents kept me reading, without this element I'm pretty sure I would have put the book down. Once I start a mystery I just have to know 'who done it.' When the book finally got around to this it felt rushed. Many of the elements that pulled it together seemed outlandish and unneeded to make the story believable.
In the end there was just too much left up in the air for me. There was never a definitive answer on any of the paranormal aspect of the storyline. It was left up to the reader to decide what they believe.
I'm linking up, come join us!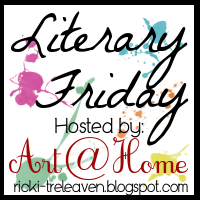 I started Gone Girl yesterday. I'm not thrilled that this book was selected by our book club. Last year I read He's Gone and didn't care for it much. Many of the reviews of He's Gone said it was just a re-write of Gone Girl. But I'm giving it a try.
I'm using this book to participate in
"I like to think I am confident and secure and mature enough to know Nick loves me without him constantly proving it. I don't need pathetic dancing-monkey scenarios to repeat to my friends; I am content with letting him be himself."
From page 56
So what are you reading?