The Great Gatsby, F. Scott Fitzgerald's third book, stands as the supreme achievement of his career. This exemplary novel of the Jazz Age has been acclaimed by generations of readers. The story of the fabulously wealthy Jay Gatsby and his love for the beautiful Daisy Buchanan, of lavish parties on Long Island at a time when The New York Times noted "gin was the national drink and sex the national obsession," it is an exquisitely crafted tale of America in the 1920s.
The Great Gatsby is one of the great classics of twentieth-century literature.
I first read The Great Gatsby when I was seventeen and have good memories of reading it. My book club decided that it would be a fun read because we could all go see the movie afterwards. I was shocked at the number of members who had not ever read Fitzgerald. Because it had been so many years I decided to re-read the book. Get a new perspective of it now that I am older.
The story is told from Nick Carraway's point of view who has broken from his mid western roots after WWI to sell bonds on the East Coast. If I had one word to describe Nick it would be lonely, the entire book he clings to these horrible people. At the end he even refers to his cousin Daisy and her husband Tom as "...careless people...they smashed up things and creatures and then retreated back into their money or their vast carelessness, or whatever it was that kept them together, and let other people clean up the mess they made..."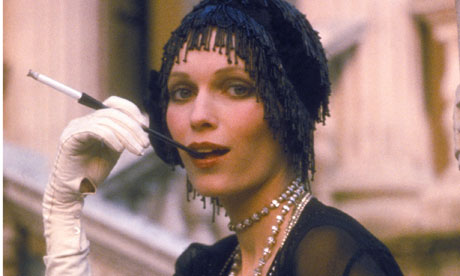 Mia Farrow as Daisy Buchanan 1974
Nick doesn't seem to have much of an opinion on his cousin, he portrays her as being shallow but Daisy seems desperate and sad more than anything else and the best line she has in the entire book shows that when she says, "All right...I'm glad it's a girl. And I hope she'll be a fool-that's the best thing a girl can be in this world, a beautiful little fool." about her daughter. The book takes place during the Women's suffrage movement, obviously Daisy is not sympathetic to their cause.
Robert Redford as Gatsby 1974
Gatsby is an enigma wrapped inside of an enigma etc etc...that Nick becomes infatuated with. Gatsby has made up an entirely fictional life for himself and you never really understand why because it seems that all he wants in the world is Daisy who met him many many years ago.
I wonder if we as readers would feel empathy for Gatsby if the story was told from his point of view. But I think Fitzgerald's entire point was to give an outsiders view of how destructive love and deceit can be.
Sam Waterson as Nick Carraway 1974
Nick considers himself "...one of the few honest people..." Which makes it really hard to understand why he hangs out with these people. They are all deceitful and dishonest. It is the true mystery of the story and might very well be what makes The Great Gatsby so Great ;)
I am glad that I re-read the book. After doing so I get the feeling I may have watched the movie more than reading the book as a teen and I am looking forward to seeing the updated version. I hate to admit that the movie looks much more exciting than the book.
Ultimately the book is about missed opportunities, desperation, deceit and how these things destroy everything. It is a classic and should be read by all no matter how much you think you hate it this is a book that you will talk about.
I'm linking up with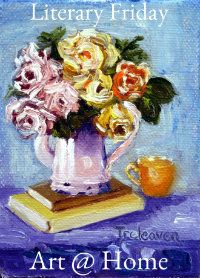 Come Join us!