Melanie Cooper and Angie DeLaura are finally living out their dream as the proud owners of the Fairy Tale Cupcakes bakery. But their first big client is a nightmare. She's a bridezilla who wants 500 custom cupcakes for her wedding.

When Mel stumbles upon the bride-to-be dead-by-cupcake, she becomes the prime suspect. To save themselves and their business, the ladies need to find the real murderer, before the cupcake killer ices someone else.
Movietime with mel, tate and angie by Andrea
I read Sprinkled with Murder as a part of
Stamp Out Crime
Art Groups activities. We all read the same book, answered questions for prizes, chatted and created art. It was a blast!
Sprinkled with Murder by Elisabeth
Sprinkled with Murder is the first book in a series by Jenn McKinlay, you can read the first chapter
HERE
Blonde Bombshell by Monica
This was a perfect cozy for me because it is all about Cupcakes, and y'all know how much I love cupcakes. The main characters own a Bakery and Jenn shares the cupcake recipes that are discussed in the book. I made one, the Tinkerbell cupcakes, you can see the recipe
HERE
Murder by Pat
On top of the fabulous cupcake story line the main characters also have an affinity for movie quotes and are constantly challenging each other to identify the quotes. What was really fun about this is that the quotes added to the plot in a fun way.
Sprinkled with Murder by Sarette
A light cozy and a chat with friends is always called for and this was the perfect book for that.
Peach Cobbler by Pat
On top of the ATC exchange that we did with this book we all also shared recipes, after all the book includes them so why shouldn't we.
Wyonegonic Special by Andrea
I am currently reading the second in this series,
Buttercream Bump Off
, and I will share a review in a few weeks.
Downeast Maine Pumpkin Bread by Elisabeth
If you are in the mood for a light mystery with fun food and movie quotes then this is a delightful fast read that you should pick up.
Peanut Butter Pie by Sarette
And of course you should make some of the cupcakes, and eat them while you read the book, it makes it a real treat.
Dilled Strawberries by Monica
I am looking forward to trying out all the recipes that we exchanged. And I hope you pick up the book and try some for yourself.
You can see my ATC and Recipe
HERE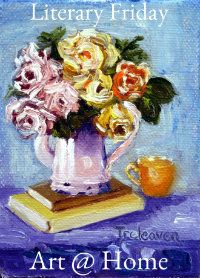 I'm linking up to Ricki Jill's Literary Friday, make sure to hop over and check out all the fabulous reviews.