As I Lay Dying is the harrowing, darkly comic tale of the Bundren family's trek across Mississippi to bury Addie, their wife and mother, in the town of her choice. The story is told by each family member -- including Addie herself. — Faulkner's use of multiple viewpoints to reveal the inner psychological make-up of the characters is one of the no...

more »

vel's chief charms.

At the heart of this 1930 novel is the Bundren family's bizarre journey to Jefferson to bury Addie, their wife and mother. Faulkner lets each family member ? including Addie ? and others along the way tell their private responses to Addie's life.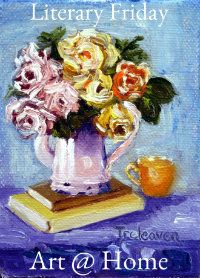 Today I am taking part in Ricki Jill's Literary Friday but it's a special one! This week Ricki is celebrating Banned Books.
She has a wonderful write up about the most recently challenged books which include many that I have read and reviewed here. So make sure to stop by her blog to discover what banned books you might have read and not even known it!
I read As I Lay Dying.
William Faulkner is one of my all time favorite writers, I can't get enough of The Sound and The Fury. So I decided to try one that was suggested to me years ago.
When I was done reading I thought to myself, "Why in the world is this book names As I Lay Dying?" So I looked it up. Like most of his books the name are derived from other significant works of literature. This one is comes from Book XI of Homer's The Odyssey (another book I love) where Agamemnon says to Odysseus "As I lay dying, the women with the dog's eyes would not close my eyes as I descended into Hades." As I Lay Dying is a bit of an Odyssey remake, but instead of a boat this family journey's in a wagon in the early 1900's. The trials the family faces in burying their mother/wife is similar to those that Odysseus must face to return to this wife.
The book takes place in Yaknapatawpha County Mississippi which I learned is a made up county name but he modeled it off of Jefferson County Mississippi.
There are 15 Narrators in this rather short book. Which keeps you on your toes but nothing like the Benji section of Sound and the Fury. So if you are looking for a less difficult read this one is one.
The book is comical, and maddening at the same time. You will never meet a more selfish, totally absorbed group of people in your life than those Faulkner wrote into these pages. Dewey Dell is totally obsessed with her unplanned pregnancy, Jewell wants nothing to do with his family (and why should he, he isn't really his father's son), Anse who comes off as dumb is really either the smartest or luckiest guy alive and Vardamon is so wrapped up in his life (much like Benji) that he doesn't have a real grasp of what is going on around him. However with all this you can't help but love the book because the characters are so well defined in such a short amount of time.
Along with the Odyssey type thread of this book there is also a bit of The Scarlett Letter. This is also the story line that resulted in the book ending up on the Banned book List
Dewey Dell is the only daughter Of Addie and Anse Bundren and she is pregnant seeking an abortion, unsuccessfully and at the end of the book this is left unresolved.
The School Board in Kentucky believed that As I Lay Dying was anti-Christian because it talked about abortion and has many cuss words.
The other element that Faulkner weaves in is a great deal of foreshadowing. There is one scene in particular that I think of. When Cora (a neighbor) and Addie are talking. Cora talks about how Addie can be saved. Addie replies "He will save me from the wote from fire and he does from River and Fire." (I don't think I have that just right). Cora believes Addie is talking about God but in reality she is talking about someone very far from God. If you want to know who, read the book.
I enjoyed this book and am glad I have read it. If not this Faulkner try another, I highly recommend them all!