I have more art to share!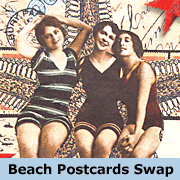 Click the image above to read all about the swap, see upcoming swaps and check out all of the participants pieces in the Gallery.
These 2 beauties are by Rosalie Ackerson. I just love how she died and used cheesecloth to represent netting. And all the things caught in her net are just gorgeous! Wonderful postcards!
Right now
Alpha Stamps
is having a HUGE (sorry for the yelling but it is ginormous) 4th of July Sale so make sure you head over and check it out, it ends the 8th and you don't want to miss it!