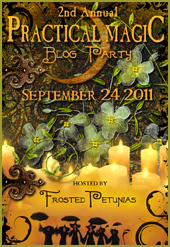 Last year a blogging friend of mine took part in a Practical Magic Blog Party, she invited me to join along but my plate was already full. So imagine my joy when I discovered that the mind behind the party, Anna of
Frosted Petunias
, is hosting it again this year!
She has set up a separate blog for this event and you can visit, learn about it and sign up
HERE
After much deliberation I have decided that I want to host a Read Along leading up to the big night of celebration.
What's a read along you ask? Well, it's a low stress don't even have to get dressed book club type thing.
So, first things first, you will need a copy of Practical Magic by Alice Hoffman. This book has been out for a while so you can probably pick up a copy at your local library, it is available now on
PBS
for 1 credit and
Amazon
has a number of used copies (starting at $0.01).
Then you will need to read it (yep, I said it, you have to read it LOL). Have no fear I'm going to give you plenty of time. Each Friday starting August 26th I will post a few questions. Anyone can answer the questions and if you get them all right you will be entered to win a weekly giveaway ($5.00 gift certificate to Amazon or 1 PBS credit or a piece of my art). The winner will be drawn randomly.
Giveaway Dates (winners will be announced the following Friday so you have an entire week to answer the questions
August 26th questions on Superstition
September 2nd questions on Premonitions
September 9th questions on Clairvoyance
September 16th questions on Levitation
September 24th The Big Day! The Practical Magic Blog Party (can you image what I'll do then or giveaway then???)
I'll post more details as the date for the kick off of the Read Along gets closer. For now please help me spread the word.